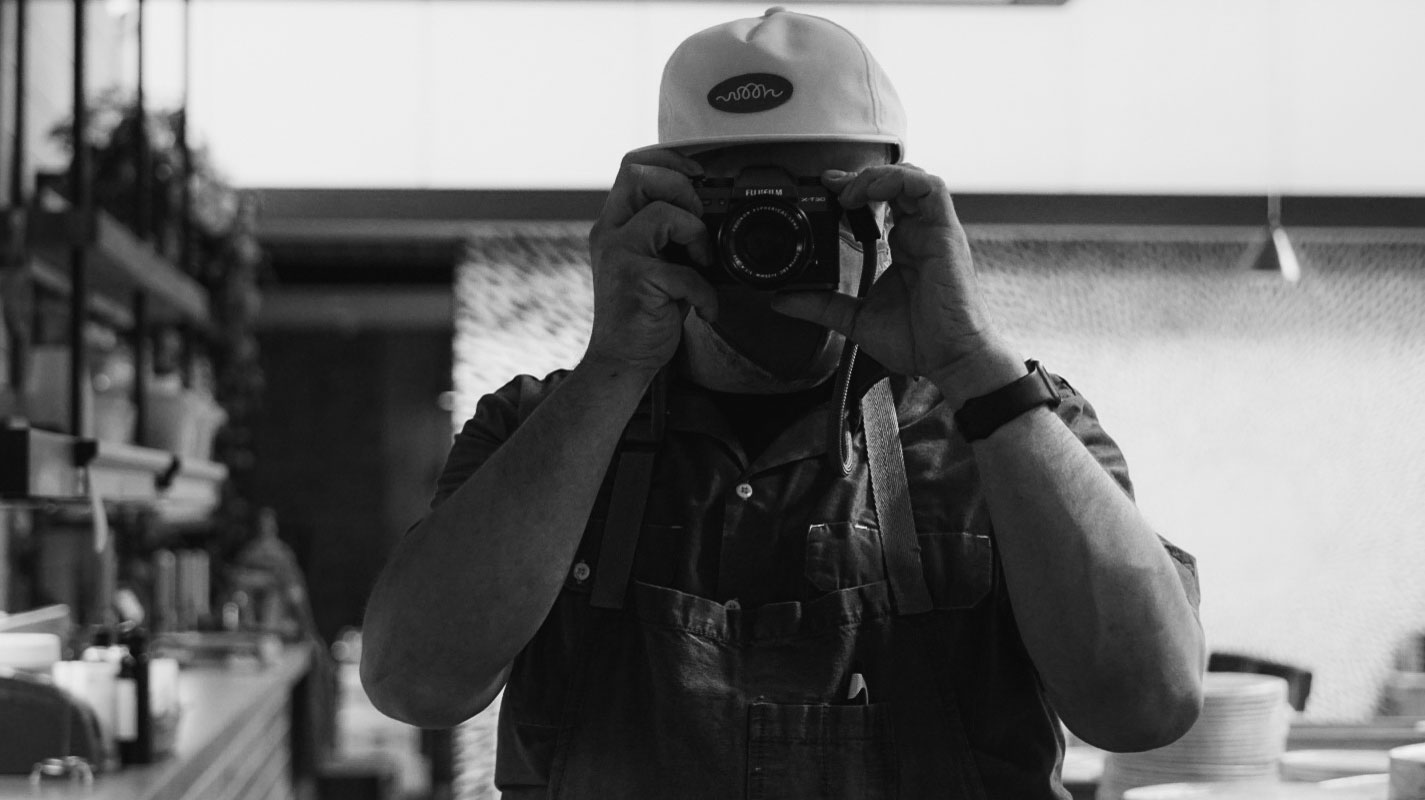 About
Only three train stops from the ocean!
Tucked away within Santa Monica's historic Bergamot Station, we're helmed by award-winning chef Jeremy Fox (also the chef/owner at Rustic Canyon and Tallula's). As a member of the Rustic Canyon Family, a collection of celebrated, neighborhood dining destinations, Birdie G's is a partnership with Jeremy and our co-owners Josh Loeb, Zoe Nathan and Colby Goff. Curious about our name? Birdie is Jeremy's daughter and the "G" stands for Gladys, his grandmother. We're the kind of place where you eat too much, drink too much and leave with a really big smile on your face. The menu is delightfully large and comforting, which means there's truly something for everyone!
Everything from the food to the cocktails to the wine list has a story and pays homage to loved ones who inspire the team. We make everything with great, local ingredients, a lot of love and a wisp of nostalgia.
Gather a big group in our dining room or outdoor patio over a variety of wood-grilled steaks and meats, fresh west coast seafood, pasta, salads and whimsical mashups like a Hangtown Brei or "Sloppy Jeremy" Texas Toast. Deanie Hickox, Jeremy's friend and ex-wife, is our rockstar consulting pastry chef, so don't forget to leave room for a slice of "World-Famous Rose Petal & Pretzel Pie!"
Just as Gladys served as Jeremy's muse, Rustic Canyon Family Wine Director Kathryn Coker looked to her own grandma, who used to drink a glass of wine every night, for inspiration. Our team can help you navigate through our massively, fun list of over 250 selections (we've got 90+ half bottles too). With cocktails by Bar Manager Stephanie Reading, our intimate bar and lounge (aka, "The Bird's Nest") is also perfect for gathering friends over a round of martinis and a relish tray. Our fare is a little familiar, a little playful, and we hope it reminds you a little bit of home.
Meet the Team
It takes a lot of people to keep this place humming, and we're really proud of everyone's hard work and passion. Meet a few of the talented folks who make Birdie G's so special.
Jeremy Fox

—

Chef/Owner

Hometown: Cleveland, Ohio

Nothing gives Jeremy greater joy than watching people eat while shaking their head either in agreement or in disbelief with how good something tastes. His favorite dish as a kid was Chicken Fingers with Honey Mustard. He's pretty sure he recalls his grandma Gladys saying in 1988 that "Jeremy is without a doubt one of my top four favorite grandchildren." Here's to you, Gladys.

Matthew Schaler

—

Chef de Cuisine

Hometown: Port Orange, Florida

Matthew's favorite part about cooking here is that he loves manifesting creative ideas and refining his skills. His favorite dish growing up as a kid was vegetable soup. According to his wife Hannah, "he's passionate about developing other cooks and leading the diner through a joyful, educational and delicious experience.

Brian Jacobs

—

General Manager

Hometown: Rockville, Maryland

Brian's favorite part of this entire industry is connecting with people and being a part of their lives –  whether it's for a moment when they're a guest, or for years if it's someone he's working with.  Creating that sense of community is something he truly treasures. He knows it sounds "very suburban," but his favorite dish growing up was Chicken Parmesan, because getting pizza toppings on fried chicken really is a kid's perfect bite. His partner Chrissy says, "Brian was born for hospitality: he loves to curate a vibe, has mastered the table side one-liners, and just genuinely wants to make people happy. Also, he generally manages."

Keely Obbards

—

Assistant General Manager

Hometown: Costa Mesa, California

Keely's natural curiosity and desire for connecting with people are what drives her on a daily basis and makes her proud to be working at Birdie G's. Nothing gives her greater joy than making someone's life a little bit brighter – even if it's only for an hour. This SoCal native's favorite dish growing up was tamales! Her mother Sue says, "Keely's creativity, passion for excellence and out-of-the-box thinking has enabled her to create the extraordinary out of the ordinary. It gives her an innate sense of how to empower those around her, and allows her to hone in on how to elevate others' dining experiences." We couldn't have said it any better, Sue.

Kathryn Coker

—

RC Family Wine Director

Hometown: Boulder, Colorado

One of the top things that gives Kathryn joy about overseeing the wine programs for the entire restaurant group is all the amazing people she works with every day. Her favorite thing to eat growing up was beets. According to her mom, "Kathryn was born with a fist-pumping attitude toward everything she is involved in leading, creating or tasting. She can't help it!"

Chloe Miranda

—

Sommelier

Hometown: Miami, Florida

A South Florida Native with a passion for wine, Chloe loves introducing new options to guests and watching their faces light up with joy at their very first taste. As a child, her go-to food groups included chicken nuggets, macaroni and cheese, and orange soda to wash it all down. Dubbed "Hurricane Chloe" by her mother, "she's always busy doing, planning, learning, growing and committed to her work. She's never satisfied with 'okay,' but always striving for perfection!"

Stephanie Reading

—

Bar Program Director

Hometown: Mill Valley, California

Stephanie loves being able to see a person and create them a drink they've never had or heard of before – the exact perfect drink for them that they didn't even know they had wanted in the first place. Her favorite dish growing up was Spinach Quiche. Her stay-at-home mom was an awesome cook and introduced Stephanie to all sorts of foods growing up with the help of her trusty Good Housekeeping cookbook (also the first cookbook that Stephanie owned). According to her dad Michael, "Stephanie has the bartending skills, enthusiasm and imagination to craft amazing and unusual drinks to complete your dining experience."

Jeremiah Lacsamana

—

Sous Chef (Also Squire & Back-Up Vocals)

Hometown: San Francisco, California

One of Jeremiah's favorite parts about the job is working with people from so many backgrounds, which includes communicating in broken French, Spanish and English. His favorite dish growing up as a kid was Vienna Sausages with eggs, rice and banana ketchup. His mom, Henedina, is proud of him because "he's always been able to maintain a job."

Joel Spadafore

—

Sous Chef

Hometown: Syracuse, New York

One of Joel's favorite parts of the job is getting his hands dirty and into whatever ingredients he's working with. Feeling each piece of food and giving it the respect it deserves, warms his soul. Growing up, he just loved his grandma Camerota's Manicotti. It was as light and fluffy as anything he's ever tasted. His dad says that the #1 thing about Joel is his "passion for fine foods and sharing those tastes with everyone he meets."

Deanie Hickox

—

Consulting Pastry Chef

Hometown: Sunnyvale, California

To Deanie, baking is just a pure expression of the desire to nurture. It brings her great delight when one of her desserts manages to bring a little sunshine to someone else. She has fond recollections of her mom's chicken and dumplings – she can't think of anything that made her feel more loved! Her husband Francisco says that "every time I try to describe what makes Deanie's desserts so transcendent, all I can come up with is a growled 'MMMMMMMMM!!.' Also, if I could only pick one of her desserts to survive the apocalypse, it would be her ice cream. And her cheesecake. And her donuts. And oh yeah, her chocolate chip cookies! Those four things are the one thing. And her chocolate cake."