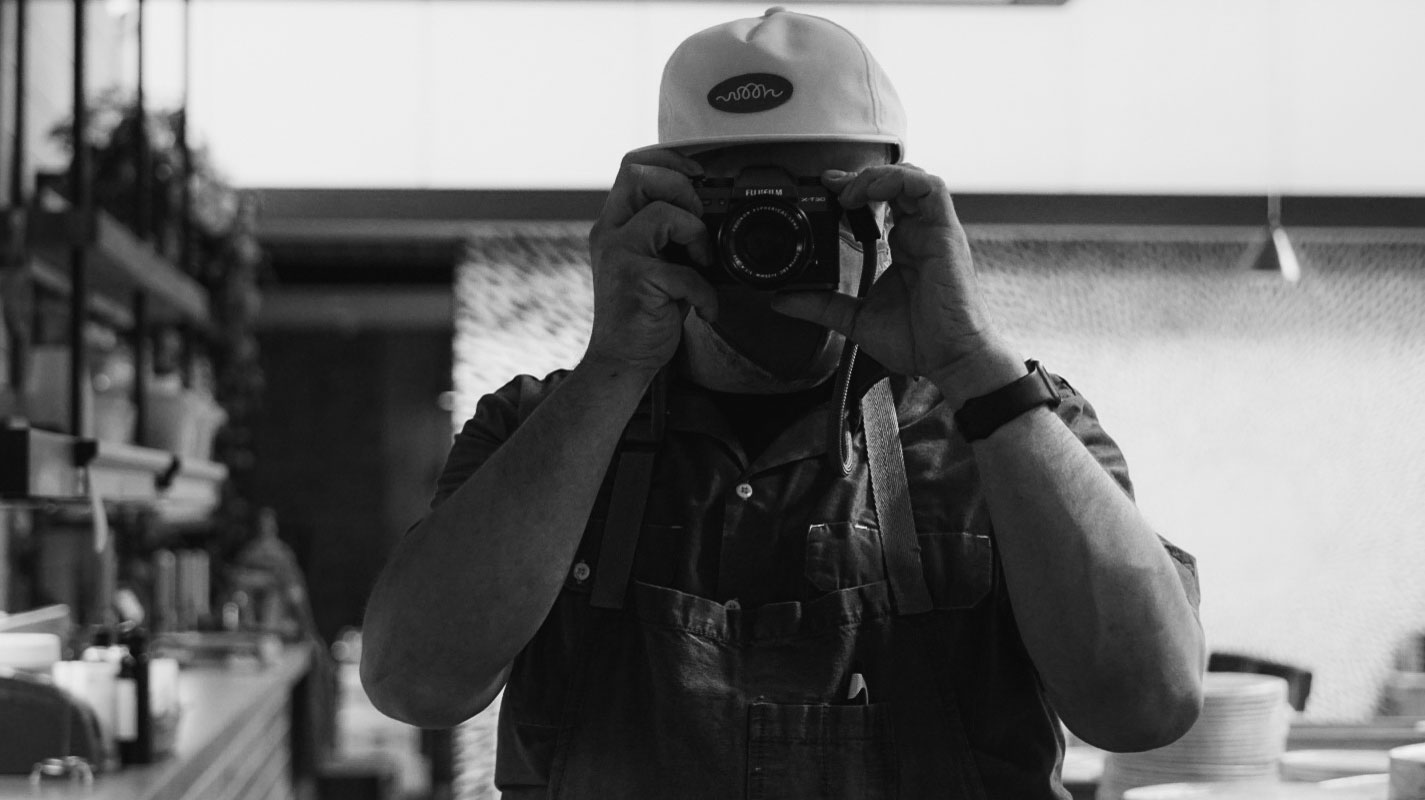 About
Only three train stops from the ocean!
"Named after my daughter Birdie and my grandmother Gladys, Birdie G's is a fun, American restaurant inspired by childhood memories and family traditions. How do I define our style? Easy…it's the product of an Eastern-European Jew who grew up in the Midwest and the Deep South, and then settled in Southern California. I don't know how I can make it any clearer. At the end of the day, Birdie G's is "where fine food and good people meet," so please relax and have a great time!" – Chef/Co-Owner Jeremy Fox
Helmed by Jeremy (also the award-winning Chef/Co-Owner at Rustic Canyon) and Executive Chef Matthew Schaler, Birdie G's is located within Santa Monica's historic Bergamot Station and surrounded by art galleries and creative businesses. We're also a member of the Rustic Canyon Family, a collection of celebrated, neighborhood dining destinations throughout Santa Monica and Ojai. Nearly everything is made in-house, with an emphasis on zero-waste, and seasonal ingredients are sourced from local farmers, ranchers and fishers aligned with our values of planet-friendly practices.
Rustic Canyon Family Wine Director Kathryn Coker oversees the 250+ bottle wine list, which ranges from classic to trending styles from around the world, all of which come from chemical-free vineyards and winemakers focused on soil health. Taking inspiration from 1950s and 60s-era supper club menus, the well-rounded and approachable list includes a robust selection of by-the-glass options and over 90 half bottles.
Bar Manager Stephanie Reading leans into farmers' market produce and a variety of house-made infused spirits, syrups and tinctures to create a dynamic cocktail menu with nostalgic classics and modern creations. To create a more connected bar experience, she takes pride in working with a variety of smaller-batched, local spirit companies.
From the food to the cocktails to the wine list, everything has a story and pays homage to loved ones – friends, family, farmers – who inspire the team. Gather on the sprawling outdoor patio, the airy dining room or the intimate bar and lounge (aka "The Bird's Nest") over rounds of drinks and a variety of wood-grilled meats and fish, steaks dry-aged in-house, handmade pastas, playful salads and vegetable dishes that celebrate the region's bountiful micro-seasons. Every Wednesday and Friday, Matthew and team curate Smörgåsbird – a fun tasting menu experience featuring wildly, innovative dishes for just 10 guests at the chef's table. Deanie Hickox, Jeremy's friend and ex-wife, is our rockstar consulting pastry chef, so don't forget to leave room for a slice of "World-Famous" Rose Petal Pie!
Basically, we're the kind of place where you eat too much, drink too much and leave with a really big smile on your face.
Meet the Team
It takes a lot of people to keep this place humming, and we're really proud of everyone's hard work and passion. Meet a few of the talented folks who make Birdie G's so special.
Jeremy Fox

—

Chef/Owner

Hometown: Cleveland, Ohio

Nothing gives Jeremy greater joy than watching people eat while shaking their head either in agreement or in disbelief with how good something tastes. His favorite dish as a kid was Chicken Fingers with Honey Mustard. He's pretty sure he recalls his grandma Gladys saying in 1988 that "Jeremy is without a doubt one of my top four favorite grandchildren." Here's to you, Gladys.

Matthew Schaler

—

Executive Chef

Hometown: Port Orange, Florida

Matthew's favorite part about cooking here is that he loves manifesting creative ideas and refining his skills. His favorite dish growing up as a kid was vegetable soup. According to his wife Hannah, "he's passionate about developing other cooks and leading the diner through a joyful, educational and delicious experience.

Keely Obbards

—

General Manager

Hometown: Costa Mesa, California

Keely's natural curiosity and desire for connecting with people are what drives her on a daily basis and makes her proud to be working at Birdie G's. Nothing gives her greater joy than making someone's life a little bit brighter – even if it's only for an hour. This SoCal native's favorite dish growing up was tamales! Her mother Sue says, "Keely's creativity, passion for excellence and out-of-the-box thinking has enabled her to create the extraordinary out of the ordinary. It gives her an innate sense of how to empower those around her, and allows her to hone in on how to elevate others' dining experiences." We couldn't have said it any better, Sue.

Kathryn Coker

—

RC Family Wine Director

Hometown: Boulder, Colorado

One of the top things that gives Kathryn joy about overseeing the wine programs for the entire restaurant group is all the amazing people she works with every day. Her favorite thing to eat growing up was beets. According to her mom, "Kathryn was born with a fist-pumping attitude toward everything she is involved in leading, creating or tasting. She can't help it!"

Stephanie Reading

—

Bar Program Director

Hometown: Mill Valley, California

Stephanie loves being able to see a person and create them a drink they've never had or heard of before – the exact perfect drink for them that they didn't even know they had wanted in the first place. Her favorite dish growing up was Spinach Quiche. Her stay-at-home mom was an awesome cook and introduced Stephanie to all sorts of foods growing up with the help of her trusty Good Housekeeping cookbook (also the first cookbook that Stephanie owned). According to her dad Michael, "Stephanie has the bartending skills, enthusiasm and imagination to craft amazing and unusual drinks to complete your dining experience."

Elijah Deleon

—

Sous Chef

Hometown: Torrance, California

For Elijah, the best part of the job is getting to work with friends everyday. He enjoys the challenge of working in a busy kitchen with high standards. Growing up, his favorite dish his mom's enchiladas filled with queso fresco and oregano. According to his best friend Julia: "He always strives for improvement, works with purpose and inspires others to do the same."

C.J. Sullivan

—

Sous Chef

Hometown: Arroyo Grande, California

CJ's favorite part about cooking is assisting guests in the discovery of a flavor they've never had before, ultimately blowing their minds. His favorite dish growing up was mashed potatoes (and definitely still is). His best friend Holly says, "He's incredibly detail oriented and is constantly looking for ways to elevate everything he touches, mainly because he's tall."

Chanel Ducharme

—

Events Manager

Hometown: Ventura County, California

Born to host events, Chanel's mom remembers taking her to help at a friend's charity fashion show when she was only 10 years old, and she jumped right in staging the models and handing out food! Her favorite dish as a child was Nana's Half & Half, also known as bean and cheese tortilla casserole. She loves her job because with every event, she gets to help people create experiences that they will remember for years to come.

Brandon Lai

—

Service Manager

Hometown: La Verne, California

Brandon's favorite part about working in restaurants is the team environment. "I love interacting and building relationships with them, and having that translate to the guests. It helps create a level of care that you don't get otherwise." His mom recognizes that strength in Brandon too, because "he gives his best at whatever he does, interacts with everyone with a smile and cares a lot for the team he works with." Awww. Growing up, Brandon loved eating Daan Tat, those creamy, custardy Hong Kong-style egg tarts.

Deanie Hickox

—

Consulting Pastry Chef

Hometown: Sunnyvale, California

To Deanie, baking is just a pure expression of the desire to nurture. It brings her great delight when one of her desserts manages to bring a little sunshine to someone else. She has fond recollections of her mom's chicken and dumplings – she can't think of anything that made her feel more loved! Her husband Francisco says that "every time I try to describe what makes Deanie's desserts so transcendent, all I can come up with is a growled 'MMMMMMMMM!!.' Also, if I could only pick one of her desserts to survive the apocalypse, it would be her ice cream. And her cheesecake. And her donuts. And oh yeah, her chocolate chip cookies! Those four things are the one thing. And her chocolate cake."